Why You Need an Agent When Buying a New Construction Home
Posted by Lynn Alvarez on Wednesday, September 27, 2023 at 3:26:34 PM
By Lynn Alvarez / September 27, 2023
Comment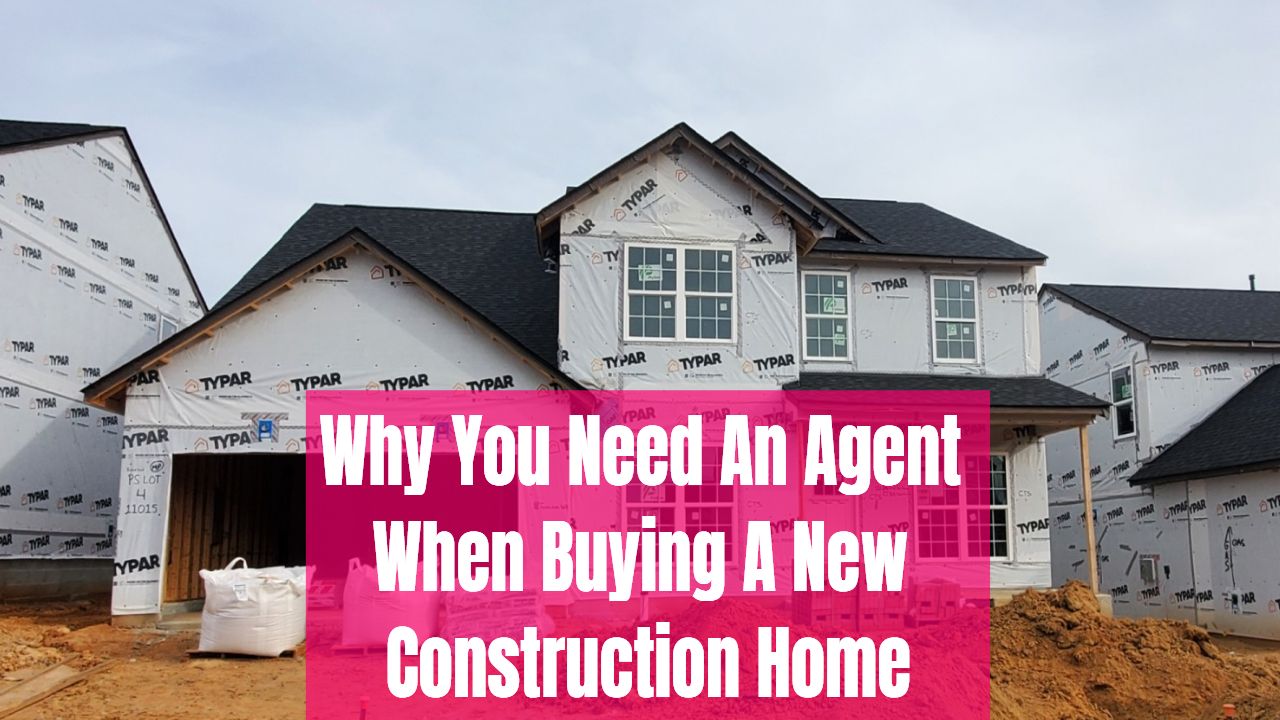 Are you thinking about buying a new construction home, but don't know where to begin? While your first impulse is likely to check out the builder's website or the builder's model homes, the smart thing to do is to select a great Realtor or real estate agent who will help you navigate the process. Simply put, there is no benefit in going directly to the builder. The agent who works for the builder will always have the builder's best interest in mind, not yours. Always bring your Realtor to your first visit to the builder's sales office, or at least register your Realtor's name to establish that you are indeed working with a real estate agent. Otherwise, there's a strong chance you can't bring them later because the builder won't allow it and/or pay them a commission. Then you will be flying solo. There are several reasons why you should be working with a real estate agent when buying a new construction home, which I have discussed in a previous blog.
Today, I will tell you the consequences of not working with a Realtor or real estate agent. When you visit a builder's website on Google, you will often find very bad reviews about the builder, even when the builder is higher-end. Those unpleasant reviews most often come from buyers who do not have a real estate agent representing them during the construction process. I will not name the builder, but here are some examples of such reviews here in the Charlotte, NC area.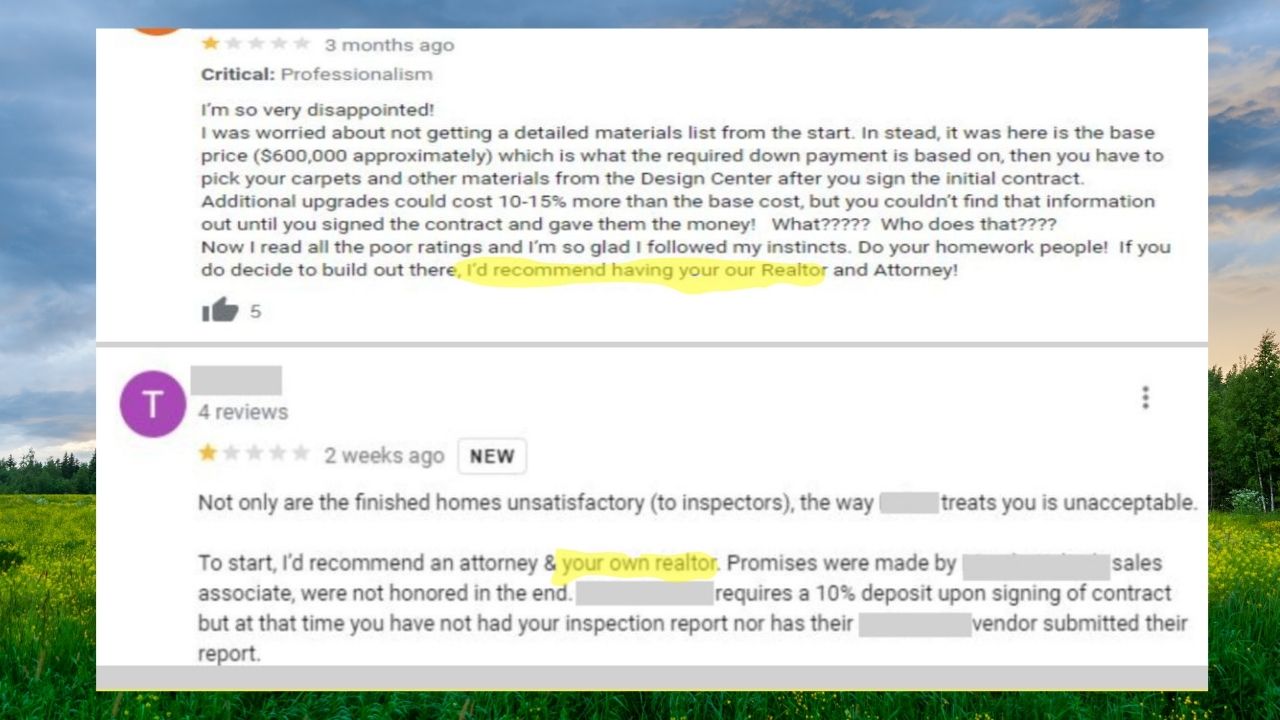 In the review above, the buyers were very disappointed about the process. Clearly, it was not explained to them very well by the builder's rep. That is why it is very important to have an agent – preferably someone experienced in new construction and who knows what they're doing – by your side to hold your hand throughout the process of building a home.
Excerpts from the reviewers….
"I'm so very disappointed! I was worried about not getting a detailed materials list from the start. Instead, it was here is the base price ($600,000 approximately) which is what the required down payment is based on. Now I read all the poor ratings and I'm so glad I followed my instincts. Do your homework people! If you do decide to build out, I recommend having your own Realtor and attorney."
"Not only are the finished homes unsatisfactory (to inspectors), but the way the builder treats you is unacceptable. To start, I'd recommend an attorney and your own Realtor."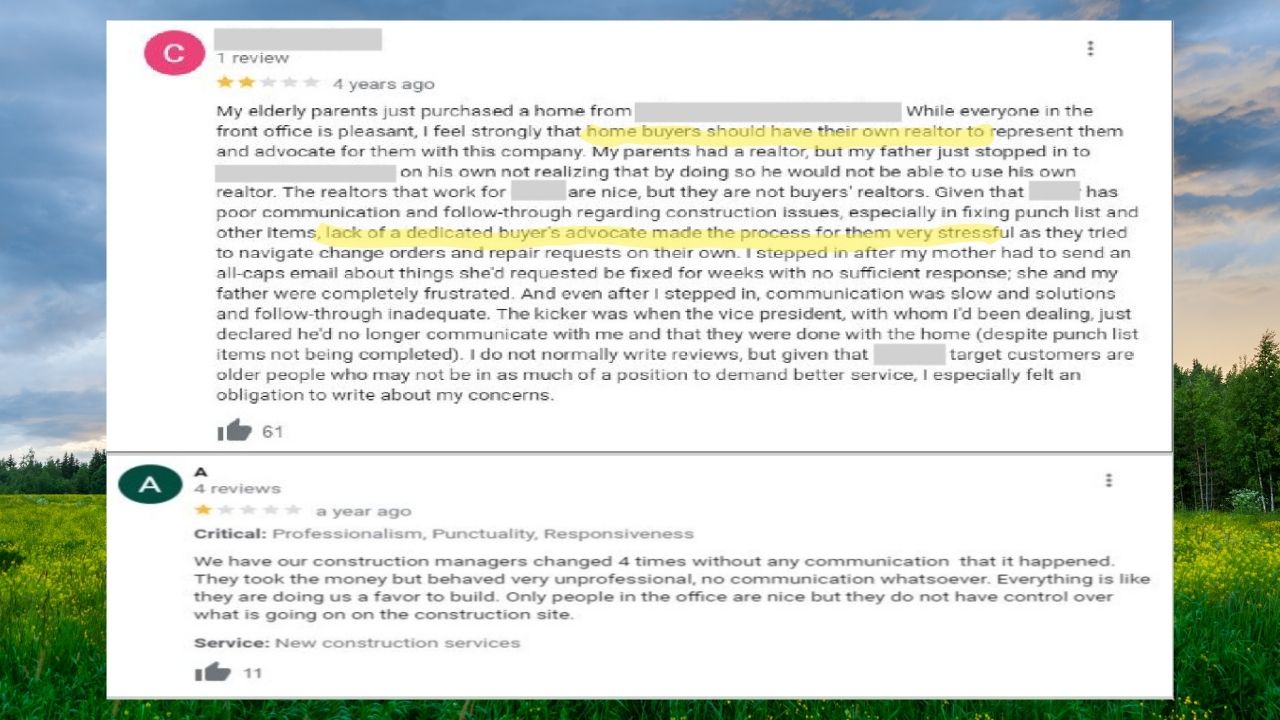 Another example of buyer discontent is shown above with the daughter's review. Her father/buyer trustingly walked into the builder's sales office without registering a Realtor, so the builder's rep registered him as unrepresented, even though he was working with a Realtor. Unfortunately, it turned into a very difficult construction and communication process, to the point that even the daughter tried to help. But she was eventually, unceremoniously pushed out of the picture and the parents were short-changed on the quality of the home. What a disaster!
Excerpts from the reviewers…
"My elderly parents just purchased a home from the builder. While everyone in the front office is pleasant, I feel strongly that home buyers should have their own Realtor to represent them and advocate for them with this company. My parents had a Realtor, but my father just stopped into the builder's sales office on his own not realizing that by doing so he would not be able to use his own Realtor. The Realtors that work for the builder are nice, but they are not Buyer's Realtors. Given that the builder has poor communication and follow-through regarding construction issues, especially in fixing punch lists and other items, the lack of a dedicated buyer's advocate made the process for them very stressful as they tried to navigate change orders and repair requests on their own."
If you need buyer representation when purchasing a new construction home, please contact me at 704-975-2429 or Albert Alvarez at 704-957-2232. We are trustworthy Realtors with thorough knowledge of the home construction process. We will protect your best interest and take the stress out of buying what is most likely the most expensive purchase of your life. Contact us here.