Welcome to the Greater Charlotte Area!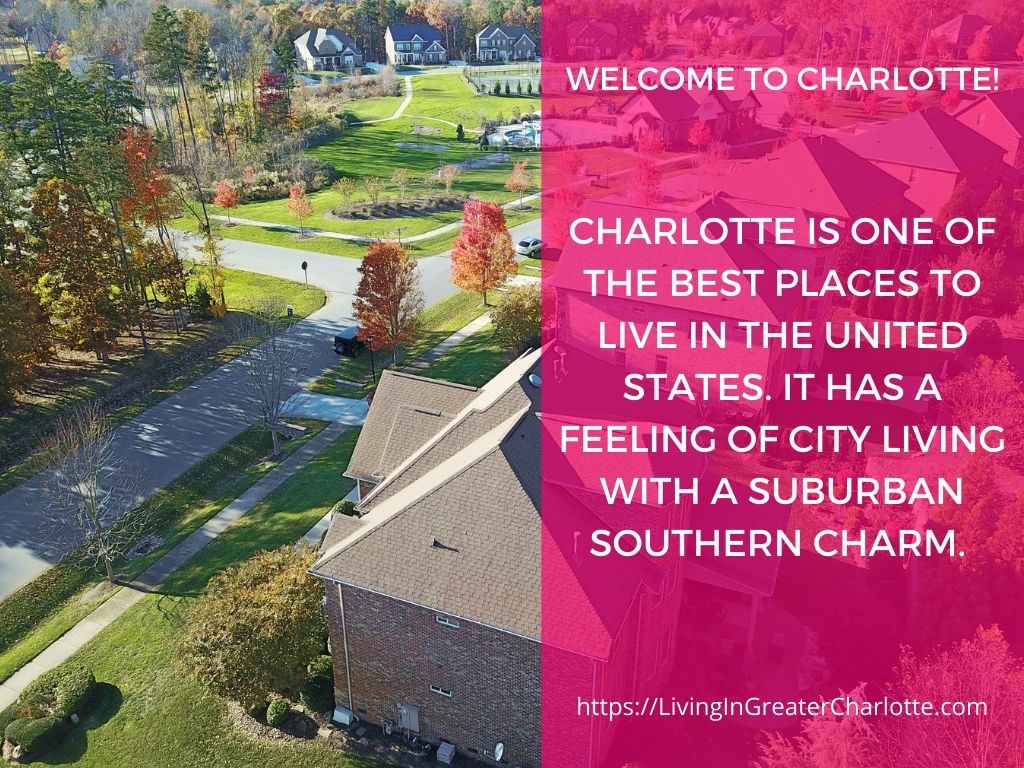 WHERE TO LIVE
What is most important to you? Do you want to live in the city proper or in the suburbs of Charlotte? Do you like an urban environment where you can walk everywhere or a quiet neighborhood? Need top-rated schools? Want to be close to work and shopping? Watch this video to learn more about the areas around Charlotte.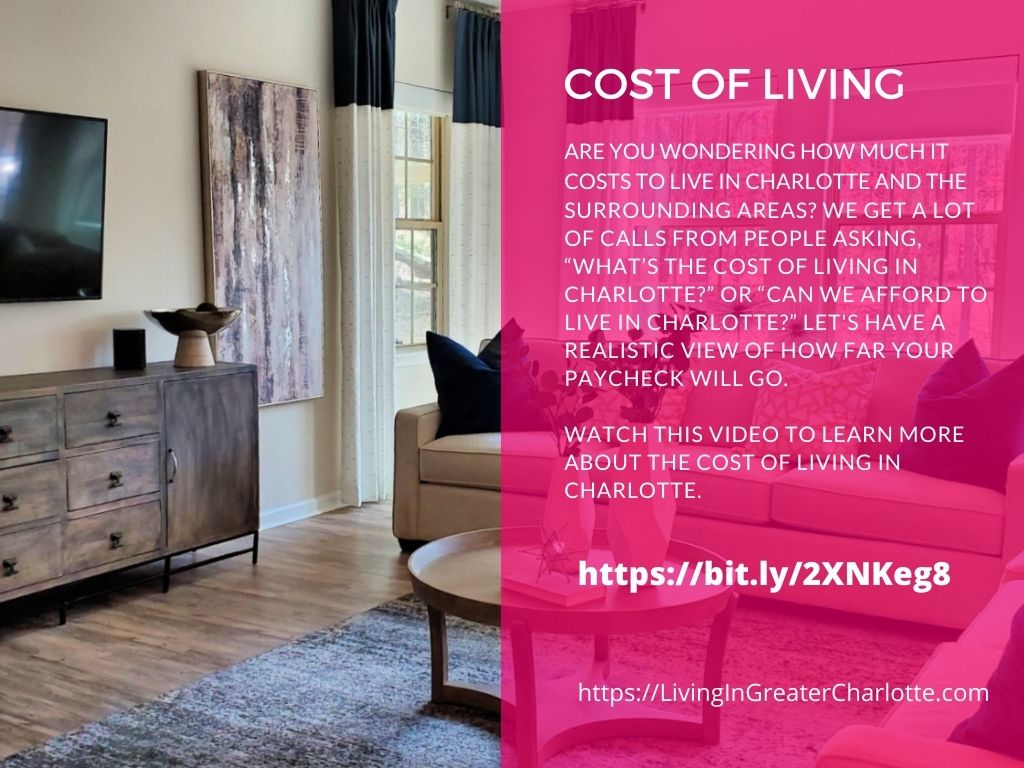 COST OF LIVING
Are you wondering how much it costs to live in Charlotte and the surrounding areas? We get a lot of calls from people asking "What's the cost of living in Charlotte" or "Can we afford to live in Charlotte?" Let's have a realistic view of how far your paycheck will go. Watch this video to learn more about the cost of living in Charlotte.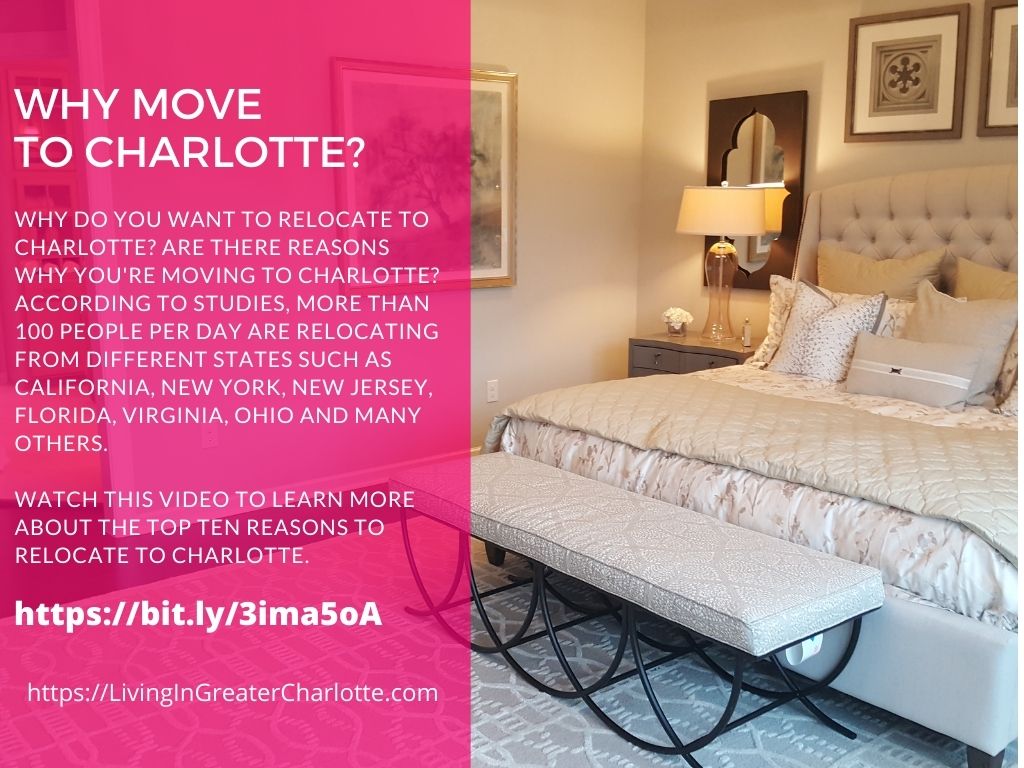 WHY MOVE TO CHARLOTTE
Why do you want to relocate to Charlotte? Are there reasons why you're moving to Charlotte? According to studies, more than 100 people per day are relocating from different states such as California, New York, New Jersey, Florida, Virginia, Ohio, Texas, Massachesetts and many others.
Watch this video to learn more about "The Top Ten Reasons to Relocate to Charlotte".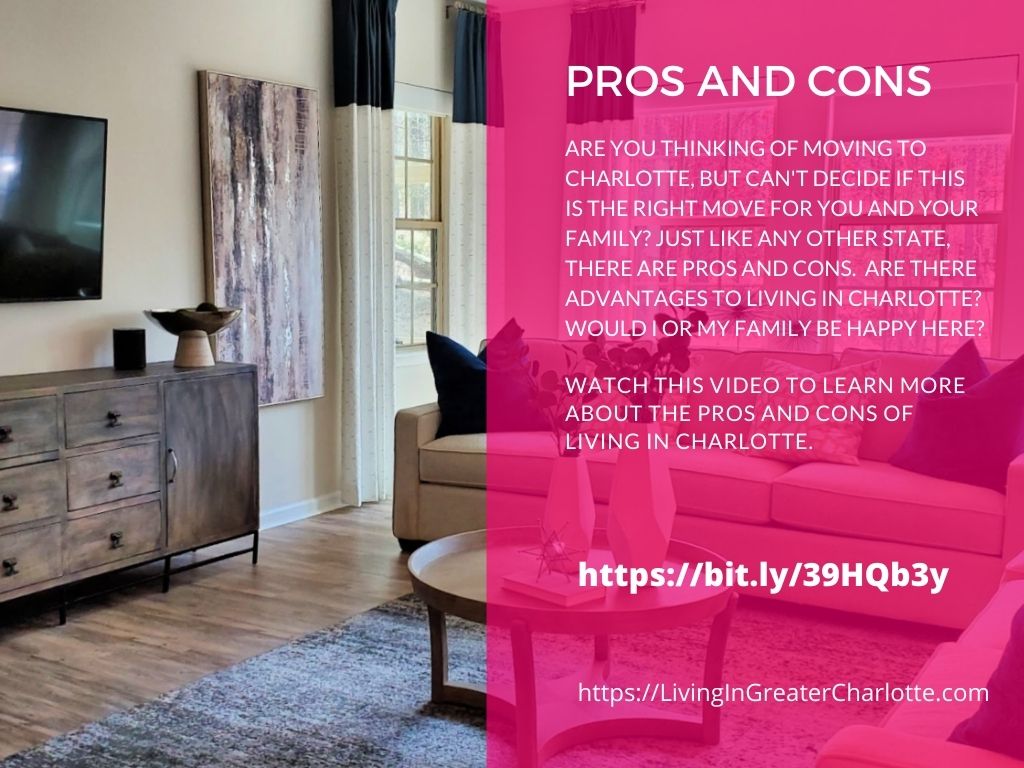 PROS AND CONS
Are you thinking of moving to Charlotte, but can't decide if this is the right move for you and your family? Just like any other State, there are pros and cons. Are there advantages to living in Charlotte? Would I or my family be happy here? Watch this video to learn more about the pros and cons of living in Charlotte.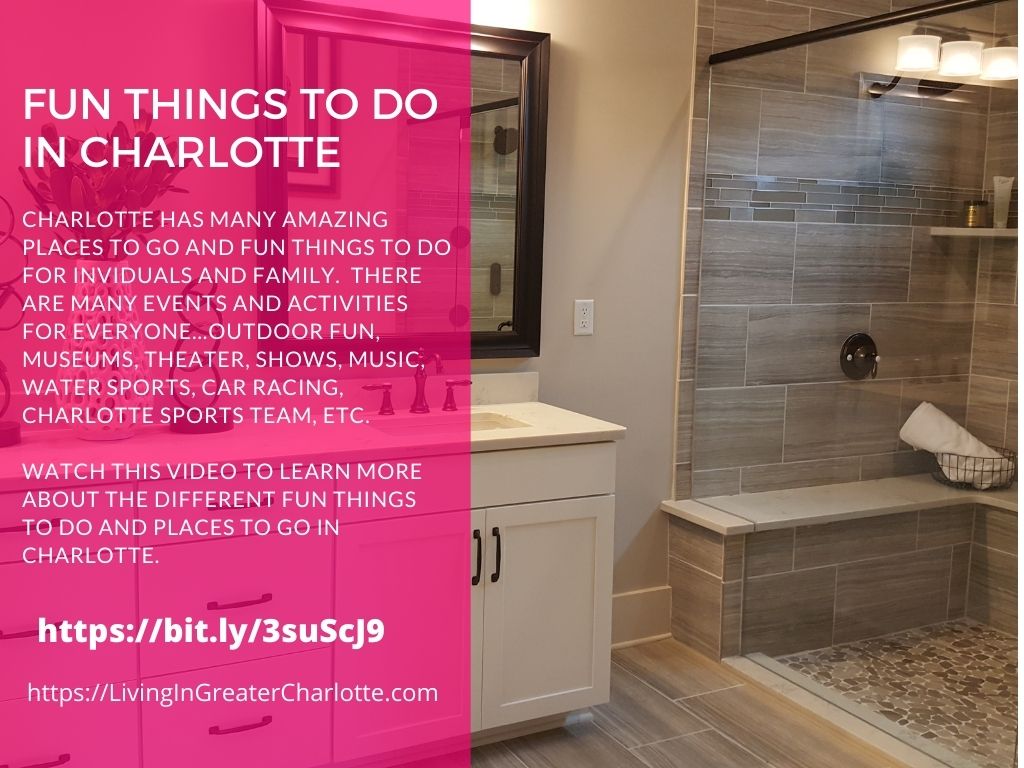 FUN THINGS TO DO IN CHARLOTTE
Charlotte has many amazing places to go and fun things to do for individuals and family. There are many events and activities for everyone...outdoor fun, museums, theater, shows, music, water sports, car racing, professional Charlotte sports teams and many others. Watch this video to learn more about the different fun things to do and places to go in Charlotte.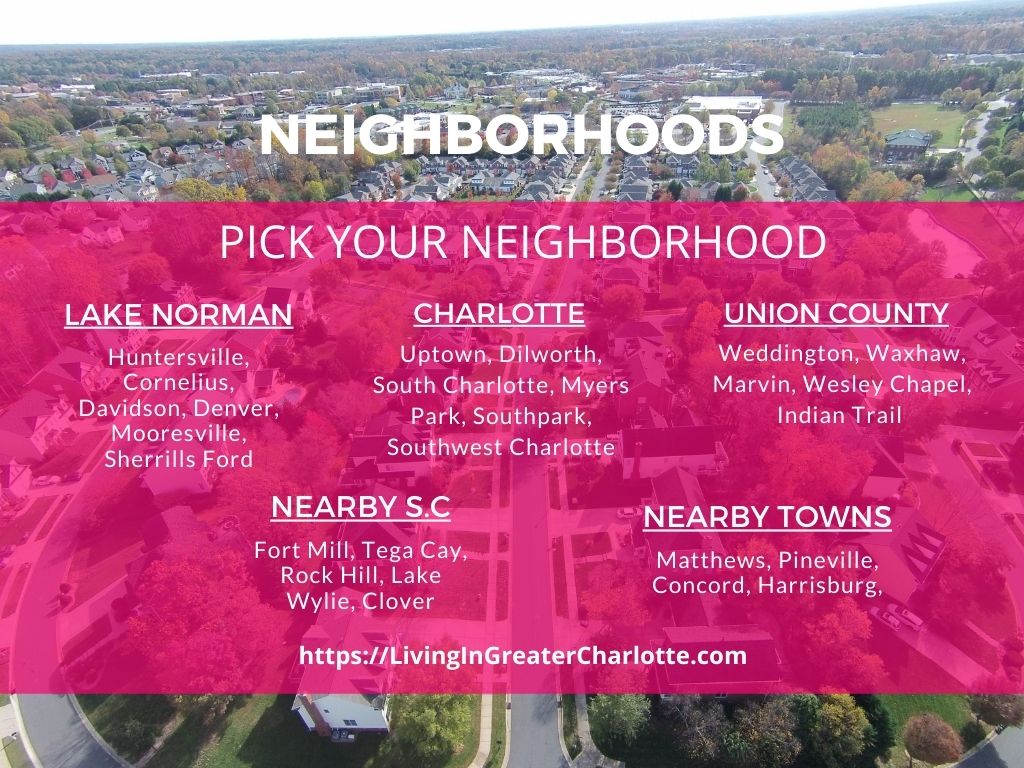 PICK YOUR NEIGHBORHOOD
There are many communities in Greater Charlotte: If you like living in the suburb check out Lake Norman which is North of Uptown Charlotte. Lake Norman is comprised of different cities such as: Huntersville, Cornelius, Davidson, Mooresville, Denver, Sherrils Ford, Terrell and Troutman. If you want to go to Union County which is Southeast of Uptown Charlotte, the cities are Marvin, Indian Trail, Weddington, Waxhaw, and Wesley Chapel. Head towards the border of South Carolina and North Carolina and you'll get to the cities of Fort Mill, Tega Cay, Clover, Lake Wylie, Rock Hill, Lancaster and Indian Land. Also, nearby towns/cities are Pineville, Mint Hill, Concord, and Harrisburg. Don't forget to check out the neighborhoods in Metro Charlotte such as: Ballantyne, Carmel, Chantilly, Cotswold, Dilworth, Eastover, Elizabeth, Foxcroft, Madison Park, Myers Park, NoDa, Oakhurst, Providence, Sedgefield, South End, Steele Creek, University City, and Uptown Charlotte.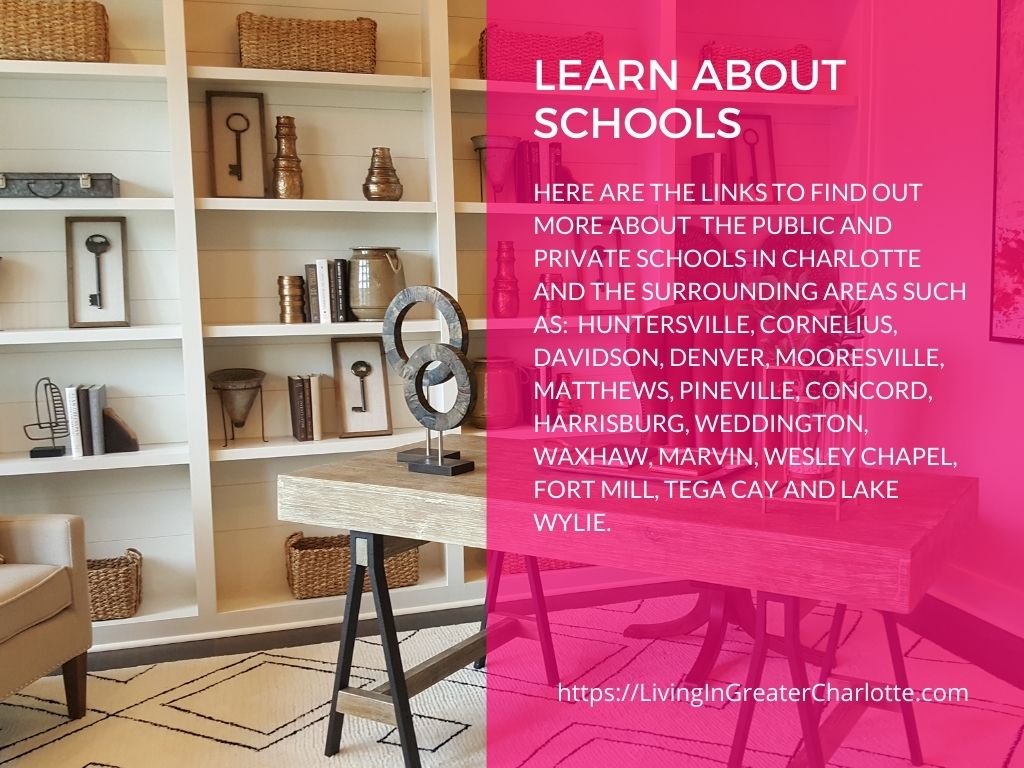 LEARN ABOUT SCHOOLS
Find out more about public and private schools in Charlotte and the surrounding areas. Check school ranking at GreatSchools.org or Niche.com
PUBLIC SCHOOLS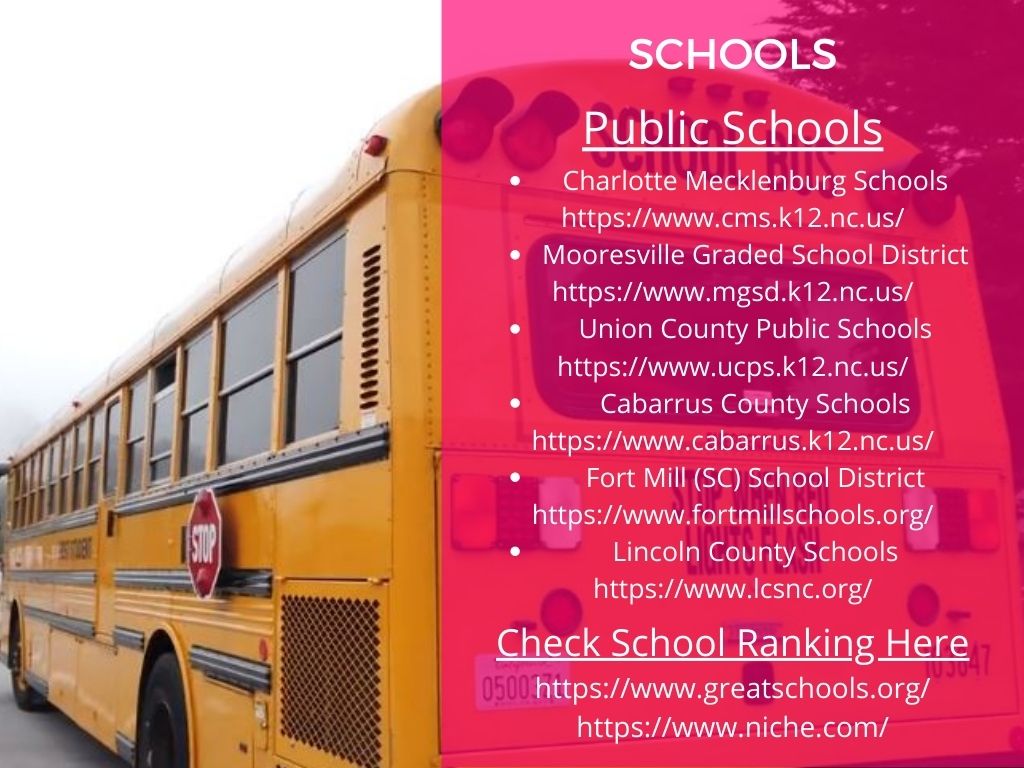 Charlotte-Mecklenburg Schools, Mooresville Graded School District, Union County Public Schools, Cabarrus County School District, Fort Mill School District (SC), Lincoln County Schools, Lake Norman Charter School, Best Magnet Schools in Greater Charlotte, Cabarrus Charter Schools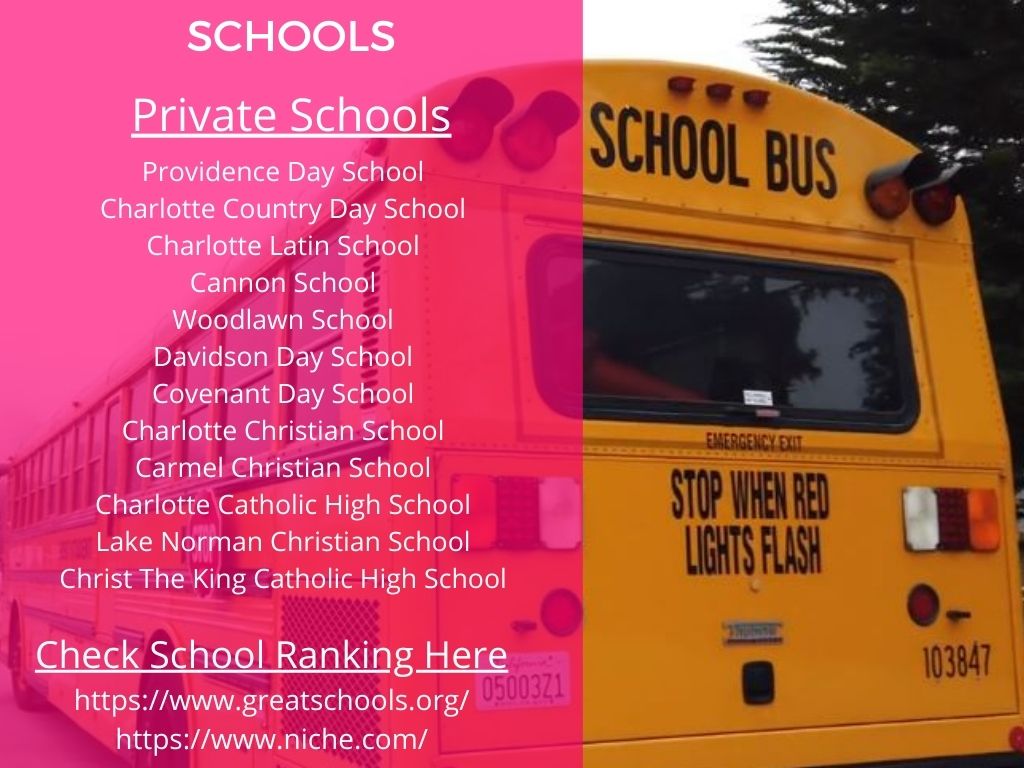 PRIVATE SCHOOLS K-12
Best Private High Schools, Best Private K-12 Schools, Charlotte Preparatory School, SouthLake Christian Academy, Catholic Schools Diocese of Charlotte, NorthPoint Christian Academy, Best Fort Mill Private Schools (SC)
BENEFITS OF LIVING IN CHARLOTTE
Charlotte Douglas International Airport is nearby, Far less traffic than other major cities, Lots of job opportunities, Short drives to the mountains and beaches, Friendly people, World-class dining, theater, nightlife and professional sports teams, Cost of living is very reasonable, Modest tax rates, Enjoy all 4 seasons, Abundant medical facilities, 3 big lakes to enjoy lake-living, Excellent schools, No hurricane or major calamities, Professional sports teams such as Carolina Panthers, Charlotte Hornets, Charlotte Checkers, Charlotte Knights, Charlotte Hounds and Charlotte Football Club.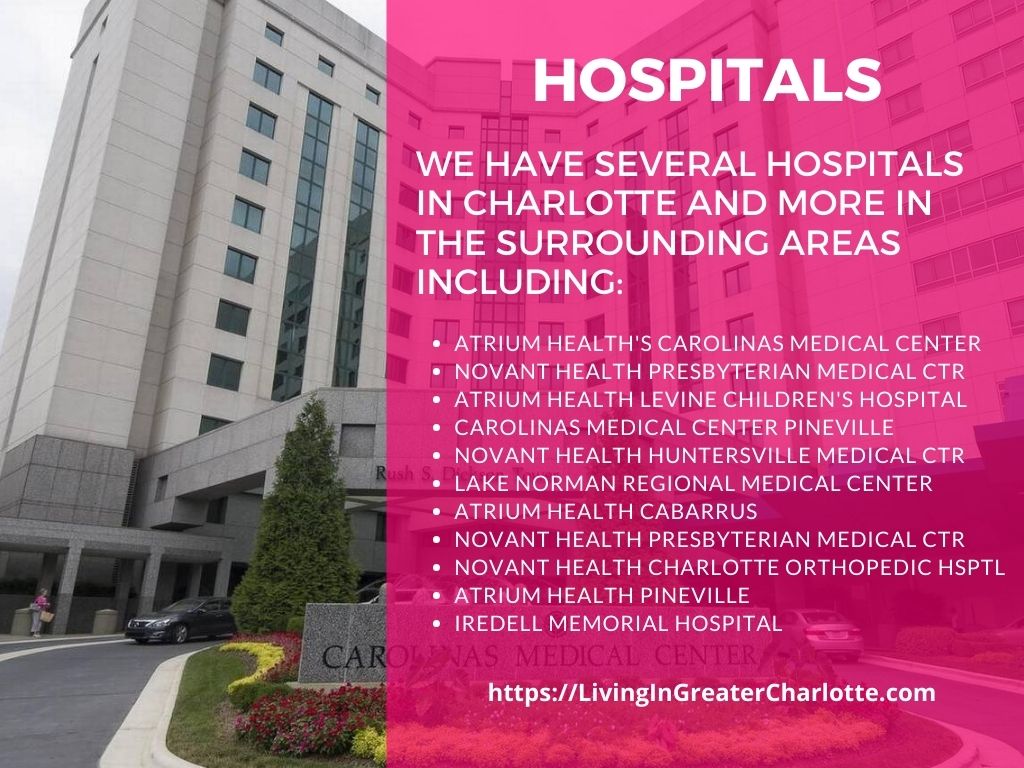 HOSPITALS
We have several major hospitals and more in the surrounding areas as well as Urgent Cares and medical facililities.
DISCOVER UPTOWN CHARLOTTE
Today, Charlotte, North Carolina, is the second-largest financial industry city in the United States after New York. Its meteoric rise to maintain the number 2 spot in American banking. Tallest buildings in Charlotte are: 1) Bank of America Corporate Center - 871 feet, 2) Duke Energy - 785 feet, 3) Truist Center - 659 feet, 4) Bank of America Tower - 632 feet, 5) One Wells Fargo - 588 feet. Please watch this video on Tour of Uptown Charlotte.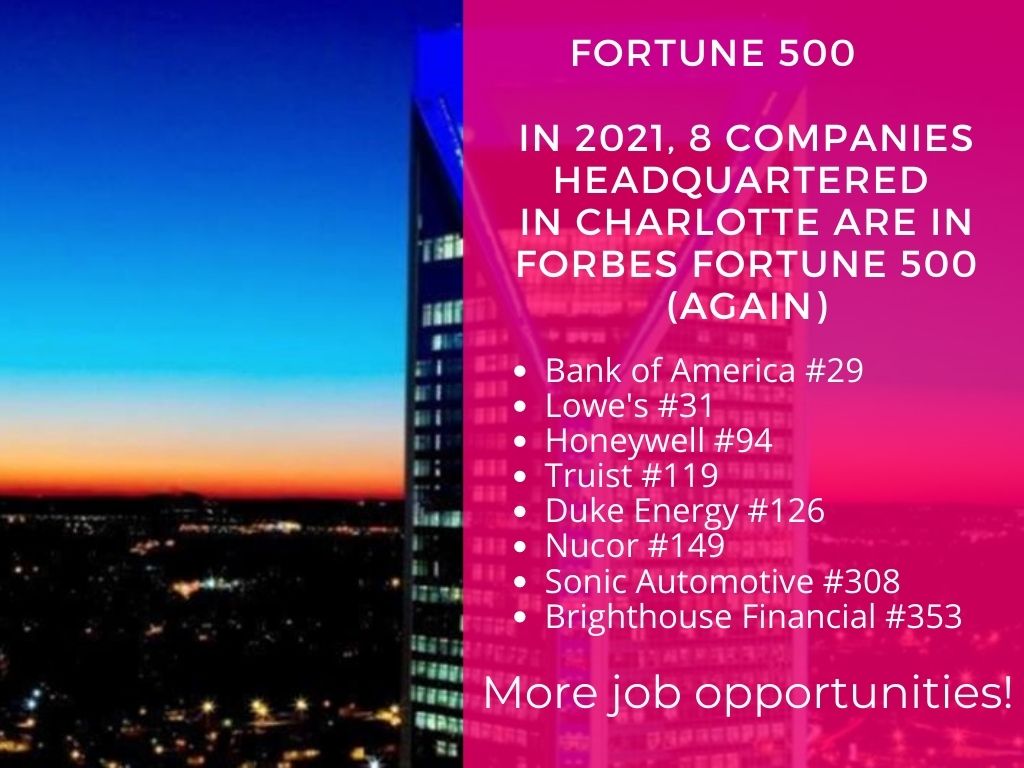 FORTUNE 500 COMPANIES
In 2021, 8 companies hearquartered in Charlotte made to the Forbes Fortune 500 again. 1) Bank of America - #29, 2) Lowe's - #31, 3) Honeywell - #94, 4) Truist - #119, 5) Duke Energy - #126, 6) Nucor - #149, 7) Sonic Automotive - #308 and 8) Brighthouse Financial - #353. It means more job opportunities.
LET US HELP YOU FIND YOUR NEXT HOME NOW!
Start your home search on our website LivingInGreaterCharlotte.com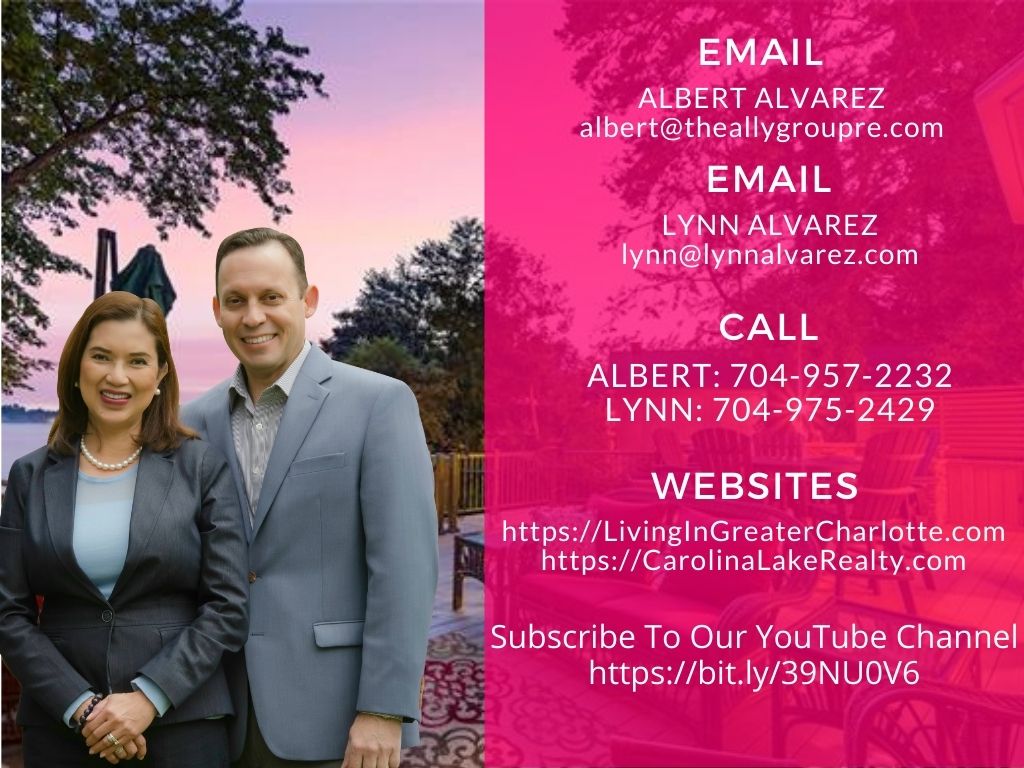 CONTACT US TODAY!
We would love to help you find your home in Charlotte and the surrounding areas, so call us today at 704-957-2232 or 704-975-2429. Get to know us better here.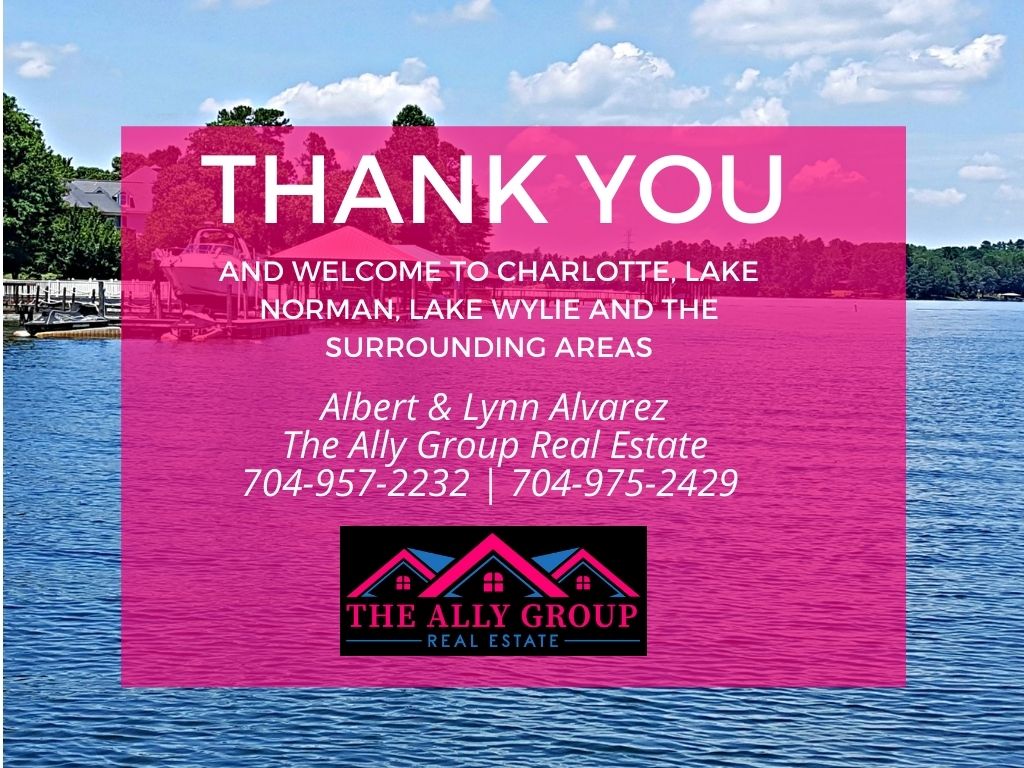 THANK YOU SO MUCH! WE HOPE TO MEET WITH YOU SOON!